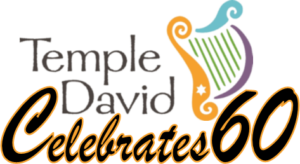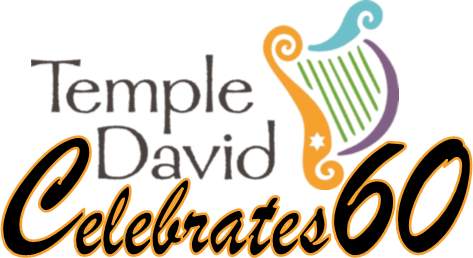 ---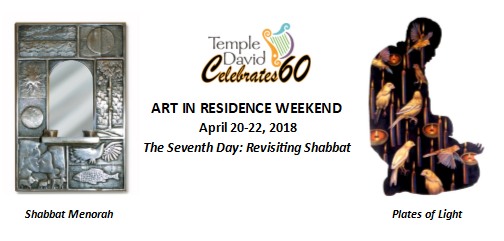 Thank you to the many people who have already become sponsors for the upcoming Art in Residence weekend. We look forward to a wonderful experience. It is not too late to become a sponsor. We have many expenses including shipping the art from the museum in NYC, insuring the art, paying the curator's expenses, and general costs to make this weekend possible. Please click the following link if you want to become a sponsor: https://goo.gl/ieSG8v. If you plan to attend the wine and cheese reception on Saturday, April 21 at 7 p.m., RSVP to Carol and Bob Gordon at carolg@templedavid.org.
Art in Residence weekend will be April 20-22, 2018. The exhibit The Seventh Day: Revisiting Shabbat is an exhibit from Hebrew Union College-Jewish Institute of Religion Museum in New York. The weekend will consist of a Shabbat Dinner on Friday night with an opportunity to preview the exhibit, a wine and cheese reception with curator, Laura Kruger on Saturday night, and a Religious School program on Sunday.
The Seventh Day: Revisiting Shabbat is a fine arts exhibition that addresses the ever changing and life enhancing merit of the celebration of Shabbat. The three Abrahamic faiths—Judaism, Islam, and Christianity—each adhere to the teachings of the Hebrew Bible. The act of 'creation' is our beginning. Genesis reveals and Exodus repeats "remember the Sabbath day and keep it holy." Each generation, building on the shoulders of the past, fine tunes and/or embellishes the patterns of previous traditions.
This exhibition explores, through a 21st-century perspective, the very meaning of the Sabbath with joy, ingenuity, intellectual commitment, and profound beauty. Many leading international artists have created new works including ritual objects. Studio artists use their skills as painters, sculptors, and photographers to delight us with amazing insights and life enhancing beauty.