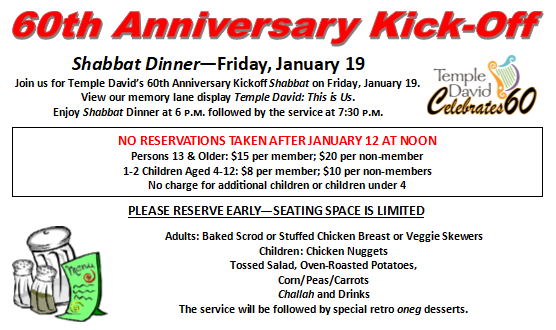 Click here to download RSVP form.
Kicking Off Our Sixtieth Year
Shabbat Dinner
Friday, January 19 at 6 p.m.
Join us throughout 2018 as we celebrate the Sixtieth Anniversary of the founding of Temple David! Our celebrations begin with a Kickoff Shabbat on Friday, January 19, 2018.
Take a stroll down memory lane by viewing our display Temple David: This is Us throughout the weekend of January 19-21.
---
Request for Photos
If you have photos of events or special memories at Temple David that we can display for our 60th Anniversary, please send them to the Temple office. We will display the photos carefully but copies (rather than originals) are preferred.
Please contact Melissa Cooper at melissac@templedavid.org with any questions.
---
AND DURING OUR KICK-OFF WEEKEND
Friday, January 19
7:30 p.m.
Shabbat Service featuring Gathering Stones Together: The Importance of Jewish Archiving by Eric Lidji, Director of the Rauh Jewish History Program & Archives at the Heinz History Center.


Saturday, January 20
10 a.m.
Shabbat Service featuring Congregants Reminiscing about Six Decades of Temple David
Sunday, January 21
9-11 a.m.
Drop-in for interactive stations about our past 60 years.

11:30 a.m.
What Led to Temple David by Eric Lidji
---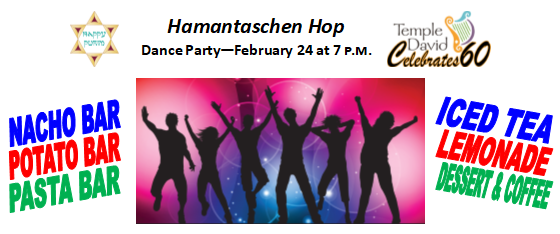 Please join us for Temple David's Purim Celebration,
the Hamantaschen Hop!
Food, Dancing, and Fun!
Adults: $20, Kids 10 and Under: $10
Soda, Hard Cider, and Beer available for purchase
Come celebrate Purim in your best costume!
No costume? Come party with us anyway!
Featuring DJ Justin and a variety of music.
NO RESERVATIONS TAKEN AFTER FEBRUARY 16 AT NOON
If you are unable to attend, please consider making a donation to Temple.
CLICK HERE FOR RSVP FORM:
www.templedavid.org/bulldocs/5778/2018hop.pdf
---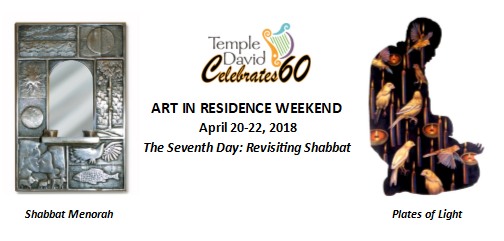 The exhibit The Seventh Day: Revisiting Shabbat is an exhibit from Hebrew Union College-Jewish Institute of Religion Museum in New York. The weekend will consist of a Shabbat Dinner on Friday night with an opportunity to preview the exhibit, a wine and cheese reception with curator, Laura Kruger on Saturday night, and a Religious School program on Sunday.
Some Updates:
At the Erev Shabbat service on April 20, Rabbi Emeritus Jason Edelstein will introduce our guest speaker Bruce Berman, a Pittsburgh-based architect, designer, and cabinet maker, and the creator of the ark, lectern, Torah stand, and Recognition Board that grace our sanctuary.
If you plan to attend the wine and cheese reception on Saturday, April 21 at 7 p.m., RSVP to Carol and Bob Gordon at carolg@templedavid.org. Please bring your friends.
The exhibit will be open to the public on Sunday and Monday from 2-5.
We are looking for volunteers to uncrate and help hang the art exhibit. We plan to work afternoons starting Sunday, April 15 thru Thursday, April 18. We also will need some help to pack up the artwork on Tuesday, April 24 and Wednesday, April 25. If you are able to help, please contact Carol and Bob Gordon and let us know when you are available.
The Seventh Day: Revisiting Shabbat is a fine arts exhibition that addresses the ever changing and life enhancing merit of the celebration of Shabbat. The three Abrahamic faiths—Judaism, Islam, and Christianity—each adhere to the teachings of the Hebrew Bible. The act of 'creation' is our beginning. Genesis reveals and Exodus repeats "remember the Sabbath day and keep it holy." Each generation, building on the shoulders of the past, fine tunes and/or embellishes the patterns of previous traditions.
This exhibition explores, through a 21st-century perspective, the very meaning of the Sabbath with joy, ingenuity, intellectual commitment, and profound beauty. Many leading international artists have created new works including ritual objects. Studio artists use their skills as painters, sculptors, and photographers to delight us with amazing insights and life enhancing beauty.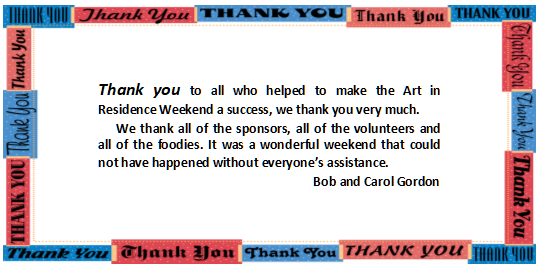 ---

You're Invited to Join us October 19-20 for our
60th Anniversary Celebration Weekend
Celebrate with family and friends at special Shabbat services and a party!
Everyone who has ever been connected to Temple David is welcome.
Friday, October 19 at 7:30 p.m.—Erev Shabbat Service
Featuring a YOU Timeline. Please remember (or ask the Temple office!)
what year you joined Temple David and be ready to share a sentence
about what was happening in the world or in your life at that time.
Saturday October 20 at 10 a.m.—Shabbat Morning Service
Featuring a "Jukebox" service, special aliyot, and a sermon by
Rabbi Jason Edelstein: Stop, Look, and Listen—A Jewish Reality
Saturday October 20 at 6:30 p.m.—60th Anniversary Party
Featuring food, music, and fun for the whole family!
Please RSVP and BYOB
Please pay what you can afford.
Suggested $9 per person / $36 max per family / No charge for kids 4 and under
Event Sponsorships available for "$60 to celebrate 60 years!"
The above events are for all ages, and guests are welcome.
Please send questions to reenag@templedavid.org
RSVP at http://evite.me/b4N613mfAZ
or call the Temple David office at 412-372-1200
or click here for RSVP form
For our out of town guests: the Hampton Inn has a Temple David rate of $109 + tax.
3000 Mosside Blvd, Monroeville, PA 15146    (412) 380-4000
JOIN US AS WE END
OUR 60th ANNIVERSARY YEAR
AT THE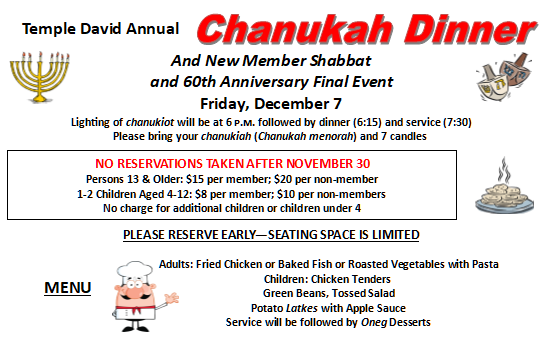 ---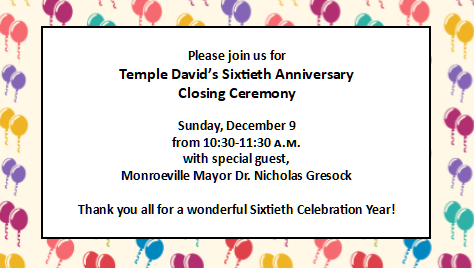 ---
Thank You to our
Sixtieth Anniversary Sponsors!
Temple David Brotherhood
David & JoAnn Lippock
Temple David Sisterhood
Kay Liss
Bruce & Gail Antonoff
Elizabeth Murray
Bob & Micki Bell
Marty & Mindy Norman
Fred & Susan Bortz
Marshall Palley
Randy & Marsha Boswell
Bruce & Rochelle Parker
Sheila Cartiff
Rabbis Richard & Susan Rheins
Tom & Carol Congedo
Harry & Jodie Schmidley
Contemporary Insurance Agency
Andy & Gail Schmitt
Rabbi Jason & Eva Edelstein
Connie Schwartz & George Bedo, z"l
Bruce & Beverly Farber
Larry & Barbara Shuman
Jay Goodman
Myron & Marge Swetlitz
Bob & Carol Gordon
The Symons Family
Al & Sue Grossberger
Jeremy White
Jim & Linda Jones
Mark & JoAnn White
George & Patricia Just
Harvey & Elaine Wolfe
Myron & Barbara Kaufman
David & Janice Zimmer
Marjorie Leof
Rita Zolot
Anonymous (2)
Thank you also to the many people who helped with advertising, set up,
clean up, food, and planning.
Your support was invaluable as we celebrated sixty years of tradition,
community, and memories that will last forever!
More from the TREATY Party Photobooth:
https://td60com.shutterfly.com/4
More 60th Anniversary Weekend Photos:
https://photos.app.goo.gl/QDe4BHSgxWkPy41H7