Directions to Shabbat in the Park (August 25)
Turn right at the bottom of the Temple driveway to head West on Northern Pike & go through the intersection with Mosside Blvd. (Rte. 48). At the stop sign turn left onto Pitcairn Rd., followed by a slight left onto Tilbrook Rd. The park is about 0.9 miles on the right (2399 Tilbrook). The second entrance to the park will let you in closer to our pavilion than the first entrance. Once in the park, follow the signs for Pavilion 1.
Shalom! Welcome to Temple David!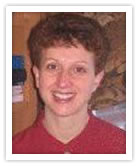 I am Rabbi Barbara Symons and I came to Temple David in 2006. I not only serve as the Rabbi, but the Director of Education and, as importantly, the parent of three children growing up in our religious school and youth groups. When I was growing up in upstate New York, I always felt very comfortable at the Temple, with my friends, my parents' friends, my teachers and the Rabbi. That feeling shaped my vision of what a synagogue can be. A synagogue is a House of Worship, a House of Learning and a House of Gathering and I believe that those houses should feel like home. Please let us welcome you.