2021-2022
Temple David's Jean Shuman
Memorial Scholarship
Applications are now being accepted for the Jean Shuman Memorial Scholarship. This scholarship was established by Edgar Shuman and his family in memory of and in tribute to Jean, wife of Edgar and mother of Linda and Eric Shuman.
The scholarship will award $5,000 to a current or entering college student or graduate student from a Temple David member family. The applicants must be current members of Temple David in good standing. Rabbi Symons will administer the scholarship application and selection process. Priority will be given to those students with demonstrated financial need.
Applications are available from the Temple office (412-372-1200)
or may be downloaded from:
www.templedavid.org/forms/Shuman2021.pdf
The deadline for applications is




Friday, March 19, 2021.
Personal interviews will be scheduled




once your application has been received.
---
Jewish Scholarship Service of Greater Pittsburgh


of the Jewish Federation of Greater Pittsburgh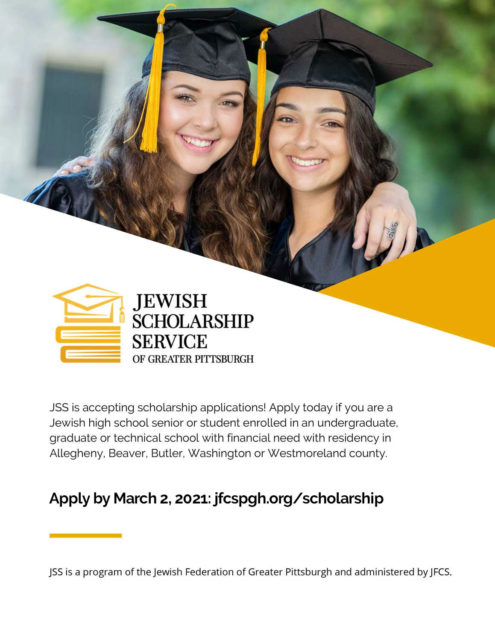 Administered by:
Jewish Family and Community Services
828 Hazelwood Avenue · Pittsburgh, PA 15217·
(412) 422-5627 · Fax (412) 428-8200
Applications for need-based college scholarships for the 2021-2022 school year are available from the Jewish Scholarship Service (JSS) of the Jewish Federation of Greater Pittsburgh.  This program is administered by Jewish Family and Community Services.  The funds are made available through the generosity of families who have established endowments through the Jewish Federation of Greater Pittsburgh, Jewish Community Center, National Council of Jewish Women, Jewish Women International of Pittsburgh (formerly B'nai B'rith Women), The Pittsburgh Foundation, and Rodef Shalom Congregation.
All scholarships are distributed on the basis of demonstrated financial need.  Depending on the scholarship fund, other factors such as academic achievement, field of study, school attending, and Jewish and general community involvement will also be considered.  In addition, the applicant must be Jewish, reside in Allegheny, Westmoreland, Beaver, Butler or Washington County for at least two years, and need financial assistance to attend an accredited institution of higher education as either an undergraduate or graduate student.
The 2021-2022 JSS online application is available at
First-time applicants must be interviewed.
All applications should be submitted as early as possible to ensure processing.
You must use a regular computer, and you MUST turn off your pop-up blocker.
The NEW deadline for 2021-22 applications is




Tuesday, March 2, 2021.
Alayne Lowenberger, Director
Jewish Scholarship Service of Greater Pittsburgh
Jewish Family & Community Service
828 Hazelwood Ave. Pittsburgh PA 15217
(412) 422-5627