A Brief History of Temple David
Richard L. Myerowitz
In the mid to late 1950's the United States was experiencing a post-war economic and baby boom. Part of that phenomenon was the growth of new suburban Jewish communities all over the country. A group of Jewish families living in the Garden City and the Eastgate areas decided that a new synagogue was needed for their area; to allow them to worship in a convenient location and to provide an education center for their children. Meetings were held and about 125 people were initially involved. High Holiday services were organized and Shabbat services were held at local churches who were willing to accommodate the group. A decision was made by the community to affiliate with the Reform Movement.
Sixty-four families signed the Temple David Charter in 1958. A building committee was formed to find a site and commence construction. By 1960, the present site was chosen and a building was constructed. The original Temple David was about half the size of the current Temple. The room we call Mervis Hall aka the "Social Hall" was the original sanctuary as well as auditorium. The classroom wing was about half the current size.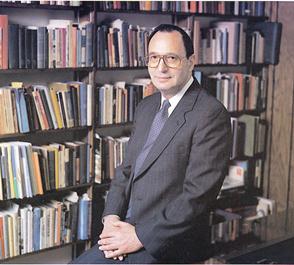 Temple David's first Rabbi was selected after an appropriate search process. Rabbi Jason Z. Edelstein agreed to serve and stayed with us until his retirement 35 years later. He currently serves as our Rabbi Emeritus.
The congregation grew rapidly in the 1960's and 70's as Monroeville was further developed and the number of Jewish families rapidly increased, as we reached a peak of about 300 families. The first expansion of the Temple occurred in 1968 with the building of several additional classrooms. By the late 1970's, it was obvious that the community needed additional space for worship and for community activities. A Building Fund drive was successful, and by 1981 a major expansion was completed with a new Sanctuary and Library. The "Social Hall" was now used exclusively for community and educational purposes. In 2002 a third renovation was completed which upgraded the facility and made the building friendly for the disabled. During Rabbi Edelstein's service, Temple David was recognized for its excellence in education both of youngsters in our Religious School and of adults in our Adult Education Program. Seven Temple David students went on to become ordained Rabbis. The Temple David volunteer Choir also developed into a unique and valued part of Temple programming.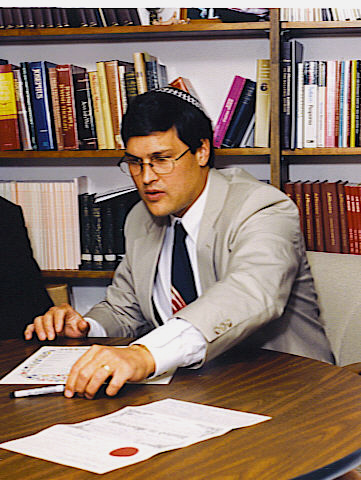 Following Rabbi Edelstein's retirement, Rabbi Richard Rheins (left) was selected as the new Rabbi. He introduced  new prayers into the worship service, focused on teaching Hebrew to students and adults and on our continuing appreciation of the State of Israel. His wife, Rabbi Susan Miller-Rheins, served as our Religious School Principal. After a decade of service, Rabbi Rheins moved to Temple Sinai in Denver, Colorado. An interim Rabbi, Reena Spicehandler, worked with us for one year during our search process. Our third full-time Rabbi, Rabbi Barbara AB Symons (right) assumed the pulpit and serves currently as our Rabbi and Director of Religious Education.