Choir
The all-volunteer choir of Temple David was formed when the congregation was founded in 1958. The choir has functioned continuously except for a brief period in the early 1980s. The Temple David Choir sings for Shabbat evening services twice each month as well as for all B'nai Mitzvah Shabbat morning services, Festival Services, and High Holy Day services. The Temple David Choir may be the only volunteer choir in the nation and possibly the world that sings that often. Many choir members have sung for more than a decade and some for more than two decades. For this reason, the Temple David Choir is more like a family than a group of performers.
The Temple David Choir also performs at Purim shpiels and on special occasions. In 2014, a 'Psalm Festival' was organized with the Word of God Church choirs and was a major success. Each year during Thanksgiving week, the choir sings at a community interfaith event in Monroeville.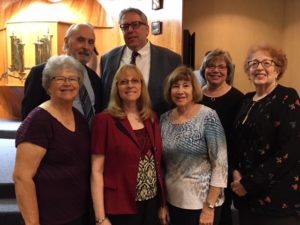 Presently choir members include (in order of length of service) Jan Zimmer, Randy Boswell, Marsha Boswell, Connie Schwartz, Kay Liss, Jay Goodman, and Carol Congedo. Eligibility for choir membership begins immediately following Bar or Bat Mitzvah. One future goal is to have the choir become "inter-generational."
There have been two choir directors in the last 26 years. From 1994-2009, the choir director was Sharon Leibowitz, a talented Temple David member. Sharon was an expert at piano and keyboard and played music for the Religious School in past years and was herself a member of the choir.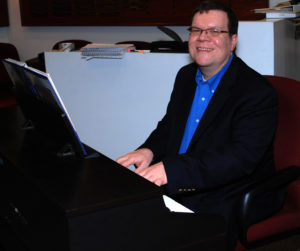 Following Sharon's retirement, Norm Chapman, a professional Choir Director was hired. Norm brings 30 years of experience to this position as a Church-based liturgical musician. Norm is a graduate of Carnegie-Mellon University. After a brief career in business, Norm became a full-time liturgical music director at Word of God Catholic Parish in Swissvale, PA. Recently, Norm left that parish for a position at St. Maurice Catholic Parish in Forest Hills. Norm applied for the position at Temple David because he wanted to expand his liturgical musical vistas. He has worked quite hard learning Jewish worship services and the Hebrew language. He has also added a degree of professionalism to our choir. The Psalm Festival was Norm's idea and will hopefully be transformed into an annual event.